Projects
Drama for Thought, Talk and Writing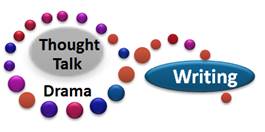 Apply by May 31st 2016 to become part of a DTTW hub in 2016/17 (numbers limited).
To register your interest, please email patrice@patricebaldwin.com
Who can apply?
– groups of schools already working together
– groups of schools that want to start working together
– individual schools wanting to join with other individual schools, to create a new DDTW hub group

Each DTTW hub consists of between 4 and 8 schools, (ideally situated within 20 miles of each other).
5 DTTW hubs have been established in Cambridgeshire and Norfolk since 2015 and a new Suffolk hub is starting in Summer Term 2016. 28 schools have already become part of DTTW hubs in East Anglia.
New applications are invited now, from Cambridgeshire, Suffolk and Norfolk schools.
For further information and to register your interest, email patrice@patricebaldwin.com or call 0782 5776898.
The basic offer
COST: £1000 per school for 2 teachers, (£1300 for 3 teachers, £1500 for 4 teachers)
Each school identifies at least 2 teachers who would like to develop their knowledge, skills and understanding of Drama, as a highly effective way of improving children's thought, talk and writing in English and across the curriculum.
One day intensive training for the designated DTTW teachers from each hub school (28th April 2017 or 15th September 2017). This day will be led by Patrice Baldwin, (an internationally renowned 'Drama for Learning' primary specialist – see below);
· First school visit; A DTTW lesson in the teacher's own school, with their own class, led by Patrice Baldwin. Patrice will plan and lead the lesson and the class teacher will be a co-participant, alongside the children. The learning objectives will be defined by/agreed with the teacher in advance and the lesson will be jointly evaluated afterwards and possible 'next steps' defined for the teacher;
· Planning and Resourcing – a 2 hour twilight session: This is an opportunity for evaluative feedback and for teachers to plan their lessons together, with support. There will also be sharing of further resource information;
· Second school visit by the same 'Drama for Learning' specialist. This time the teacher leads a lesson that they have planned and the visiting drama specialist is the co-participant. The lesson will be jointly evaluated together afterwards, for impact, learning outcomes and 'next steps';
· Further training and evaluation afternoon, in which the hub teachers come together to evaluate and report progress, share outcomes and consider 'next steps'. There will be some new lessons and resources provided at this session.
· Email group: Participants can communicate with each other and with Patrice throughout for sharing and support.
Additional Services
• Additional teachers from a school can be fully included at £300 for the 3rd teacher, £200 for the 4th
• Additional teachers may attend the one day intensive training at a day delegate rate of £100 pp
• 2 hour bespoke twilights for your school £200 (for up to 30 staff)
• Additional lesson and/or school based planning visits £500 a day or £275 half day
• Curriculum planning sessions with teachers and/or subject leaders, to plan DTTW into your own school curriculum £500 a day or £275 half day
• Bespoke CPD full or half day for your whole school staff £550 full day and £275 half day
All invoices will have 20% VAT added (Vat Reg. No. 188 0821 84)
Drama for Learning and Creativity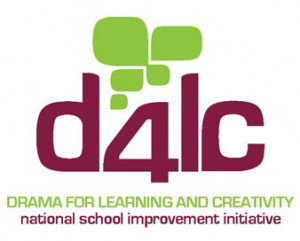 In 2005, Patrice created and directed a national school improvement initiative called, Drama for Learning and Creativity (D4LC). It started as a partnership project between National Drama and Norfolk County Council Children's Services and received £7K initial funding from NCC Children's Services and £30K from the National Endowment for Science, Technology and the Arts. The Qualifications and Curriculum Authority (QCA) also supported this project with its logo and helped it spread nationally. D4LC Conferences were held across the UK for schools and also for local authorities, to share the D4LC practice and outcomes.

Dr David Simpson from the University of Brighton externally evaluated the project and many of the participating teachers carried out action research, helping provide evidence of the positive impact of drama on learning.
Outcomes after one year (the first cohort of 60 schools):
• 80% + of the schools now of the schools for 5 to 11 year olds now have a teacher responsible for Drama
• 100% schools surveyed have Drama in their school development plans
• 60% are working with Drama for more than an hour a week (a 25% increase)
• 90% teachers report a gain in confidence
• 60%+ now confident to teach Drama to classes that are not their own
• 80%+ teachers say they have acquired new teaching strategies
• 20% more use of Drama in other subjects, i.e. Citizenship, Geography, Religious Education, Visual Arts, Physical Education
• 33%+ see a connection between maths and Drama and Science and Drama
• Less than 20% see a connection between Drama and Information and Communication Technology
• There were increases in purposeful thinking, generation of ideas and empathy
• The most favoured purposes of Drama were Communication and Expressive Skills (67.2%); Creative and Thinking Skills (63.6%)
D4LC outcomes and practice have been presented across the world, e.g. at UNESCO's 2nd World Arts in Education Summit in Seoul. S.Korea and at the IDEA World Congress in Hong Kong, as well as Conference presentations for Drama subject associations in Iceland, Canada, Norway, Sweden, Ireland, Germany, Austria, Greece, Turkey, USA, New Zealand and Australia.
Patrice helped Iceland and Wales set up D4LC and the practice in many schools continues. Several similar initiatives were subsequently set up in the UK and abroad but were not officially D4LC, unless they applied to be so and followed the model.
Lesson Folder and DVD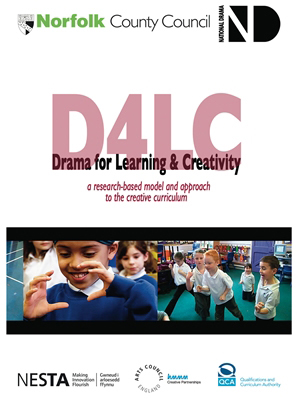 Hundreds of D4LC teachers each contributed a lesson for free publication online. Some lessons were selected by Patrice and published in a D4LC folder. A DVD about D4LC was also published. These are now out of print but National Drama intends to make the free lessons available again online in 2015.

Read more about the D4LC model
http://www.unesco.org/culture/en/artseducation/pdf/fullpaper301patricebaldwin.pdf
Read the first evaluation report of D4LC
http://www.slideshare.net/guesteae4b1/d4lc-first-external-valuation-2005
Watch a D4LC promotional film
http://www.youtube.com/watch?v=yRj21I5FOHQ
Watch Teachers TV programmes about D4LC practice
KS1 – Maths through Drama http://www.youtube.com/watch?v=o0u16p4wyoE
KS2 – PSHE Through Drama http://www.youtube.com/watch?v=_uJh94egeWo
Read articles about D4LC
DRAMA magazine (Winter 2006)
The Drama for Learning and Creativity project is a specific example of enabling young people to use their imagination and creativity as a stepping stone to reality."
Jude Kelly OBE, Chair Culture and Education, London Olympics 2012, Artistic Director, South Bank Centre and Patron of National Drama.
We welcome this initiative's focus on exemplifying how drama can be used in English and across the curriculum to encourage creativity in teaching and learning."
Qualifications and Curriculum Authority, England
D4LC has improved teaching and learning in many of our schools and has also helped engage children who can be difficult to reach with traditional teaching techniques. I am positive that the work here in Norfolk can inspire schools both in the UK and abroad to use drama in a range of different learning situations. We are delighted that the partnership with National Drama has been so successful and innovative."
Fred Corbett, Deputy Director, Norfolk County Council Children's Services, England