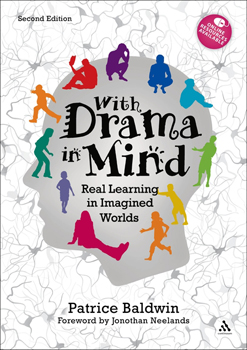 Published: March 2012 (second edition) by Continuum
ISBN: 9781441169358
My Publications
With Drama in Mind
In this new and updated edition, Patrice Baldwin brings together key findings from brain research and best practice to highlight the benefits that drama and imagined experience can have on learning, creativity, motivation and self-esteem, and explains why and how drama supports learning.
The book offers sound advice on planning and managing drama across the curriculum from ages 5-14, and provides carefully annotated schemes of work complete with photocopiable resource sheets and online templates. Both experienced teachers of drama and non-specialists will appreciate the up-to-date research, new pedagogic examples, multisensory drama techniques and links to contemporary developments in education, such as play-based learning, learning outside the classroom and Philosophy for Children (P4C).
With Drama in Mind is an invaluable source of inspiration for revitalising your teaching and stimulating pupils' imaginations.
Contents
Foreword Introduction How to Use this Book
Part One: Drama for Learning
1. Drama in Schools
2. Drama and the Brain
3. Dramatic Play and Drama in Real, Imagined and Virtual Worlds
4. Drama and Intelligence
5. Drama and Thinking
6. Drama, Creativity and Imagination
7. Drama, Inter-Thinking and Talk
Part Two: Structuring the Drama Experience The Drama Contract Drama Strategies – Choosing and Using The Drma Strategies
Part Three: The Drama Units How to Use these Drama Units
Unit 1 (ages 5-7) Mr Once Upon a Time
Unit 2 (ages 5-11) War and Peas
Unit 3 (ages 7-11) The Victorian Cotton Mill
Unit 4 (ages 10-13) Bullying
Unit 5 (ages 9-13) Creating an Imaginary Culture and Community
Unit 6 (ages 10-13) Chief Seattle's Speech (1854)
Unit 7 (ages 9-14) The City
Part Four: Photocopiable Resource Sheets References and Further Reading Index
Reviews
This new edition contains significant new research and thinking by one of the world's foremost thinkers and practitioners of drama education. It is a must-buy book for anyone interested in drama education from beginning teachers to experienced specialists. With Drama in Mind skillfully combines theory and practice in an accessible and user-friendly language. I couldn't recommend it more highly."
Peter O'Connor, Associate Professor and Director of the Critical Research Unit in Applied Theatre, University of Auckland, New Zealand
What Patrice Baldwin understands and communicates so well in With Drama in Mind is the understanding that we are childlike in nature throughout life. To engage in drama is to accelerate and sophisticate the process by which human brains learn best through play-based learning systems where tensions and conflicts unique to our species can be safely and productively explored and conquered. Bravo!"
Xan S. Johnson, PhD., Professor of Theatre and Child Drama Specialist, University of Utah, USA
A fascinating and well-researched book which details the obvious but long-missed point that experience influences brain development and learning. Through practical teaching ideas Patrice Baldwin demonstrates why drama teaching is so essential to the development of all children. Part guide and part pedagogy, this book empowers teachers to choose appropriate drama techniques, listen to their pupils and adapt approaches."
Kevin Piper, Education Consultant and Director of Creative Education, UK
This updated version of With Drama in Mind brings together a wealth of material that will be of interest to all those committed to high-quality educational experiences for young people. It fuses the best of progressive practice from the 60s and 70s with the most up-to-date evidence from the field of neuroscience. It introduces readers to emerging findings about links between cognitive development and the arts that illustrate the fundamental importance of drama education for young people. Offering an excellent blend of theory and practice this book is likely to appeal to all those involved in education that seek ways to readily apply new ideas in the classroom. Drama has always been a discipline that has broken new ground in education and with this book Patrice Baldwin clearly continues that tradition."
David Parker, Director of Research, Impact and Learning, Creativity, Culture and Education, UK