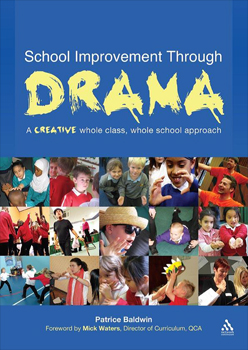 Published: November 2009 by Network Continuum Education
ISBN: 9781855396463
My Publications
School Improvement Through Drama
Patrice Baldwin gives an overview of the way drama links to learning, teaching and the curriculum. It will help those who need to connect with the rationale for drama in and across the curriculum and who need to plan for it and explain it to others in terms of its necessity and impact.
The book offers guidance that will facilitate schools' work on self-evaluation, preparing for Ofsted, drawing up school development plans and drama policies. With exemplar lessons for each of the year groups across KS1-KS3, this is a highly practical book that has something to offer all who work in or with primary and secondary schools.
Contents
Foreword by Mick Waters
Author Acknowledgements
How to use this book
PART ONE
Chapter 1 – Improving your school through drama
Chapter 2 – Why schools might make drama a priority Chapter 3 – Leading and managing drama
Chapter 4 – Building and improving your curriculum through drama
Chapter 5 – Improving the learning and teaching of drama across the school
Chapter 6 – Continuing professional development in drama PART TWO
Glossary of drama strategies and conventions
PART TWO
The Drama Units
Unit 1 (Key Stage 1, Years 1 and 2 )…… Whatever Wanda Wanted
Unit 2 (Key Stage 2, Years 3 and 4 )…… The Green Children
Unit 3 (Key Stages 2, Year 4 )………….. World War 2 (Evacuees).
Unit 4 (Key Stages 2 / 3, Years 4 to 7)…..Night Walker Unit 5 (Key Stages 2 / 3, Years 5 to 8)….The Bystander Unit 6 (Key Stages 2 / 3, Years 6 to 8)….The Island
PART THREE
Resource sheets
The Drama Audit Tool
References
Recommended reading
Reviews
Aimed at teachers of any subject and school leaders, this volume explains how to use drama for school improvement at different levels. With reference to UK policies, standards, and concepts but applicable to other countries, it shows why drama in schools is important; how to use it to develop successful learners, confident individuals, and responsible citizens; how to lead and manage drama, including conducting a drama audit and review; and its use in cross-curricular learning and teaching. It also addresses professional development and provides a glossary of strategies and conventions and units of activities. Baldwin, who established the UK's Drama for Learning and Creativity school improvement initiative, is an educational author and scriptwriter and former primary teacher."
Eithne O'Leyne, BOOK NEWS, Inc.