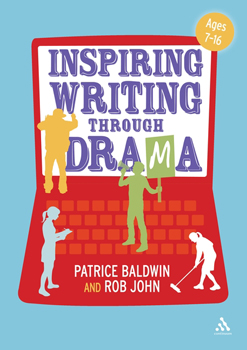 Published: November 2012 by Bloomsbury
ISBN: 9781441159090
My Publications
Inspiring Writing through Drama
Inspiring Writing through Drama offers interactive, high-quality drama schemes that will motivate and inspire students aged 7-16 to write for a range of purposes and audiences. Each drama unit offers:
• A planning grid flagging the writing opportunities within the drama
• Original resources, such as poems, text messages and fragments of graffiti
• Individual, group and whole-class writing opportunities, some teacher-led and others guided by the students
• Icons to signpost differentiated activities
Reading, writing, speaking and listening opportunities are embedded within the drama experiences, and you can follow the schemes or use the texts as a springboard to developing your own drama units and writing opportunities. The authors offer guidance on using drama strategies imaginatively and encourage you to assess the impact on the writing outcomes of your students. This book offers a clear methodology and high-quality practical drama activities that will motivate students to write purposefully within compelling imaginary contexts.
Contents
Foreword by Andy Kempe Glossary of Drama Strategies Introduction
Part 1: Drama and Writing
1. Breathing Life into Writing
2. How Drama Strategies Support Writing
Part 2: Drama Units Introduction
Unit 1: Mary Maguire: Housemaid
Unit 2: The King's Daughters
Unit 3: The Year of the Rats
Unit 4: The Lost Bag
Unit 5: Lorry
Unit 6: When the Bees Died
Unit 7: Invisible
Unit 8: Once They Get Started
Part 3: Writing Resources References and Further Reading Index
Reviews
Inspiring Writing Through Drama is a rich, practical resource that guides teachers and children to write for real inside and outside the pretend experience. The units that the authors have provided demonstrate how writing informs drama thus marrying literacy and arts learning in meaningful – and yes, inspirational – contexts."
Larry Swartz, Professor of Education, Ontario Institute for Studies in Education, University of Toronto, Canada
Patrice Baldwin and Rob John have a depth and breadth of drama experience to bring into play (in many senses of that word) for the pleasure and learning of children and adults. Writing is the focus here and the varieties of writing that are generated through a rich selection of sources and strategies makes this a really useful text. For new teachers, there are clear descriptions for effective teaching; for the seasoned teacher looking to generate a new excitement for learning, this text is a compendium of stimulating suggestions. It is the kind of book that teachers will want to have easily to hand—great bedside reading!"
Juliana Saxton, Professor Emeritus, Department of Theatre, University of Victoria, Canada
This book is a manual for any teacher looking to make writing come alive through drama. It contains well-researched evidence of drama's efficacy to enhance the teaching of writing with purpose. Even better, it contains several wide-ranging unit and lesson plans to help even the most timid teacher take advantage of the power of drama in the classroom. It is sure to help many children experience both writing and drama in new ways!"
Lauren Stripling, Producer, Story Pirates, USA