Presenters
Dame Alison Peacock
[zilla_one_fourth]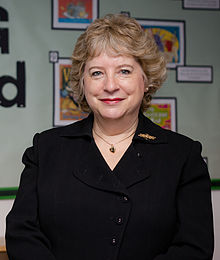 [/zilla_one_fourth]
[zilla_three_fourth_last]
Dame Alison Peacock, DBE BA MEd is co-author of Creating Learning without Limits (2012). This research explores an alternative improvement agenda; identifying key dispositions for school leadership, where every adult and child is valued and where no one is labelled by so-called ability.
Alison is Executive Headteacher of The Wroxham School, a primary school in Hertfordshire. She led the school out of special measures less than a year after her appointment as headteacher in 2003 and it was subsequently judged by Ofsted to be outstanding (2006, 2009, 2013). The Wroxham School' was designated as a School of Creativity in 2009 and as a Teaching School in 2011. The Teaching School established The Wroxham Transformative Alliance and now has over 100 member schools.
Alison's teaching career spans primary, secondary and advisory roles. Alison is a member of the Royal Society Vision Committee and is also a Senior Primary Partner of the Challenge Partners group of schools. She is a consultant for the Cambridge Primary Review Trust and a member of the Princes Trust Commission for the proposed Royal College of Teaching. Alison is a member of the DfE Expert Panel for Assessment and also the NAHT Commission for primary assessment.
Throughout her career, Alison has worked in partnership with educational researchers to document her innovative work as a teacher and creative school leader.
Visit The Wroxham School website: http://www.thewroxham.org.uk/
[/zilla_three_fourth_last]