Boys will be ……..BRILLIANT!
Date
Mon, 9th February, 2015
Time
9:30 am - 3:30 pm
Location
Sprowston Manor, Norwich
Ref. Number
PB/1415/Ach/011
Price
£0.00
Description
ABOUT THE COURSE
This course will explore the range of barriers to boys' achievement and effective strategies to break them down. There will be a particular focus on literacy, emotional intelligence, peer pressure, working with parents and much more. Gary's work is not just about breaking down the barriers to boys' achievement but it is also about developing a caring masculinity – turning out decent young men. The course would suit both primary leaders and secondary managers, middle managers and pastoral leaders.
£160 for 1 place, £300 for 2 places
Location
Book Now
Course name:
Boys will be ……..BRILLIANT!
Ref. Number:
PB/1415/Ach/011
Date:
Mon, 9th February, 2015
Time:
9:30 am - 3:30 pm
Location:
Sprowston Manor, Norwich
Price:
£0.00

Please ensure you add all delegate names in the 'Delegate Name(s)' field below. We would appreciate if you can also check you have correctly entered all address fields.

Bookings are closed for this event.
Presenter(s)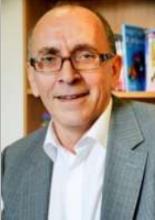 Gary Wilson
GARY WILSON is the country's leading expert on raising boys' achievement and has worked extensively with primary and secondary schools across the UK. He is a freelance consultant and is author of several books including 'Breaking Through the Barriers to Boys' Achievement' and (for parents) 'How to Help Your Boy Succeed'.
Gary taught for 27 years, initially as a secondary teacher in West Yorkshire, working in conjunction with feeder primary schools to focus on raising boy's achievement.
In 2003 he became England's first LA school improvement officer with responsibility for raising boys' achievement. In 2005 he became chair of the National Education Breakthrough Programme on Raising Boys' Achievement, (National Primary Care Trust and the DFES Innovations Unit). He led a double national award winning campaign to raise achievement across Kirklees LEA. In 2008 he ran a campaign to raise boys' achievement in Derbyshire which won a national award for work with parents. He has spoken at many DFES best practice events and LA and National conferences all over the UK and in Brazil. He has made three Teachers TV programmes and sometimes contributes to the TES and to BBC's 'Woman's Hour'.
Patrice is Chair of National Drama and Past President of the International Drama Theatre and Education Association, as well as being an Artsmark trainer and validator for Trinity College, London and a visiting lecturer at the Universities of Warwick and Brock University in Canada.