International
Patrice has shared her drama practice and ideas in almost 30 countries across the world. She has created and directed several international drama Conferences since 2000, e.g. National Drama's groundbreaking 'Thinking Drama' Conference (2004) http://www.theguardian.com/education/2004/may/04/teaching.schools . She is often asked to speak about how learning through drama links to research in neuroscience. She also speaks often about how and why drama helps children to become better at reading, writing and talking. Her workshops can be focused to exemplify this.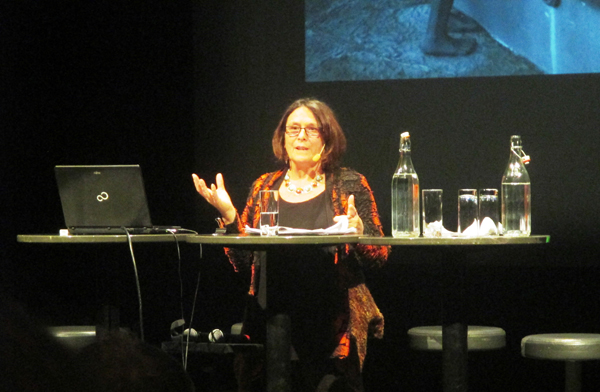 Sweden (April 2014)
A Conference held by the Swedish Arts Council with the Swedish Culture Centres. Patrice was a keynote speaker in Umea, Sweden's City of Culture. She spoke about 'Children as Culture Makers, Receivers and Responders' .
http://www.kur.se/Documents/Barn%20och%20unga/personinfo_att_valja_ratt.pdf
Canada (October 2013)
Patrice was a Cultural Leader for Brock University Department of Dramatic Arts, Niagara. She gave a keynote, radio interview, teaching demonstrations, workshops for teachers, students and actors. http://www.brocku.ca/webfm_send/28012 https://www.greaterniagarachamber.com/LinkClick.aspx?fileticket=IFXlshIME1A%3D&tabid=140
Austria (October 2013)
Austrian Drama Education Teachers' Network Conference, Hard – keynote speaker
France (July 2013)
8th World Congress of the International Drama Theatre and Education Association. Patrice was a Presidential speaker at the opening ceremony and a Congress workshop leader. http://www.idea-paris 2013.org/index.php?option=com_content&view=article&id=11&Itemid=625&lang=en
England (July 2013)
Chair's 'Welcome' speech at National Drama's 'Heathcote Reconsidered' International Conference, Greenwich University, London.
Wales (June 2013)
Patrice has contributed to several Conferences and local authority D4LC days in Wales, e.g. she was a keynote speaker at UKLA's 'Reading for Pleasure Conference', Cardiff Metropolitan University. http://www3.cardiffmet.ac.uk/English/News/Pages/CardiffMethostsReadingforPleasureconference.aspx
Germany (May 2013)
Patrice has given speeches and workshops in Germany several times, most recently she was invited to the World Summit on Arts Education – Polylogue. http://worldsummit2013.bkj.de/participants.html
Sweden (May 2013)
'Neuroscience and Drama Pedagogy' – Patrice gave a lecture alongside Bjursell Gunnar, Professor of Genetics and Molecular Biology, at the 10th Anniversary Drama in Education Conference at the University of Gavle.
http://translate.google.co.uk/translate?hl=en&sl=sv&u=http://kask.blogg.se/2013/april/kultur-ger-fler-synapser.html&prev=/search%3Fq%3Dgavle%2Bpatrice%2Bbaldwin%26biw%3D1366%26bih%3D641
Hong Kong (February 2013)
IDEA Regional Conference 2013 – Patrice gave a teleconference speech as IDEA President. http://www.unescohkied.org/conference_photos. She has in previous years, met with TEFO and presented a paper about D4LC at the 6th IDEA World Congress.
Sweden (January 2013)
RAD's Winter Seminar at the University of Gavle – speech and workshops
Finland (November 2012)
The World Alliance for Arts Education Summit 2012 at the University of Lapland, Rovaniemi, in association with the Institute for Northern Culture and the University of the Arctic. Organising committee member and a keynote speaker. http://www.ulapland.fi/InEnglish/About-us/News–Events/Events/Events-2012/WAAE-Summit–2012/Hosts-and-Organisers
Canada (October/November 2012)
Keynote speaker and workshop leader for the Council of Ontario Dance and Drama Educators (CODE) at their 42nd Conference ,'Think Global'. Also, Workshops at York University, OISE, University of Toronto, Charles Sturt University and a keynote speaker at the 'Arts Matters' Conference at Brock University, Niagara http://www.code.on.ca/category/blog-tags/code-workshop
Iceland
Patrice has visited Iceland professionally since 2007 and has given workshops and speeches on several occasions for actors and teachers. Most recently (2012) she gave a speech and led a workshop at the 7th Nordic Congress Drama Boreale.
Ireland (July 2012)
7th International Drama in Education Research Institute Conference at Mary Immaculate College, University of Limerick
http://www.mic.ul.ie/latestnews/Documents/IDiERI7ScheduleProgramme.pdf
Hungary (May 2012)
Keynote speaker at the Europe 2 conference at the Miskolc National Theatre. http://www.etc-cte.org/uploads/Final_participant_list.pdf
New Zealand (April 2012)
Keynote speaker at the Drama New Zealand Conference, 'With Beads of Light' in Wellington.
Philippines (April 2012)
Working for PETA, with actors and teachers for 3 days, on the theme of 'Emigration'.
South Korea (April 2012)
At the Korean Drama/Theatre Education Association (KADE) Annual Conference, Patrice gave a speech and workshops in Seoul, for teachers and actors. She also had a meeting /press conference with Seoul's Superintendent of Education, Kwak Nohyun. http://english.sen.go.kr/4_news/intV_view.jsp?src=&src_temp=&count=82&boardTitle=interview&boardSeq=73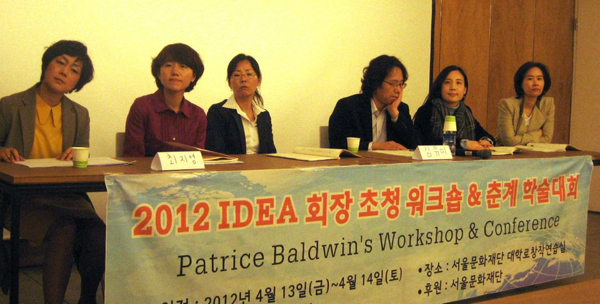 Europe (March 2012)
Patrice broadcast a speech live to a European e-Twinning community of teachers.
Serbia (2012)
Patrice visited Belgrade, to attend a Drama Europe meeting, whilst President of IDEA.
USA (January 2012)
Patrice was the keynote speaker and led a workshop at the 17th Annual Integrated Arts Conference at the University of Plymouth, New Hampshire. https://www.plymouth.ed/outreach/etc/files/2010/10/ETC12_IACB.pdf
China (September 2011)
Guest at the 33rd ITI World Congress in Xiamen.
Singapore (2011)
Led a workshop and made a presentation about D4LC at the inaugural Drama in Education Conference of SDEA.
New Zealand (February 2011)
Patrice gave a speech and workshops at the University of Auckland. http://www.education.auckland.ac.nz/en/about/schools-departments/crstie/crstie-research/crstie-research-units/cruat.html
She was about to deliver a keynote at the University of Christchurch Conference for PhD students, when an earthquake struck, a few minutes before she was due to speak. http://www.northnorfolknews.co.uk/news/happisburgh_woman_tells_of_new_zealand_quake_ordeal_1_813908
Australia (March 2011)
Patrice was the keynote speaker at Drama Australia's 2011 National Conference, 'Spaces of Performance' http://www.dramawest.com/conference.html
Argentina (2011)
Podcast interview for EVO
Ireland (November 2010)
Workshops and a speech for the Association for Drama in Education in Ireland. http://www.adei.ie/what-we-do.html
Belgium (October 2010)
Rapporteur at DICE Conference in Brussels held at the European Parliament http://www.dramanetwork.eu/programme.html
South Korea (May 2010)
Presented D4LC as a panel speaker at UNESCO's 2nd World Conference on Arts Education http://www.artsedu2010.kr/index.jsp
Poland
Patrice has worked in Poland several times, in Warsaw and in Katowice, for a language school (TEFL), school for actors and for the University of Silesia.
Turkey
Since 2008, Patrice has worked at several annual Conferences organized by Cagdas Drama, including in Ankara, Adana, Eskehisir (Drama and Literacy), Trabzon (Dance Drama) and Urfa (Drama and Ritual). http://mimesis-dergi.org/2012/11/patrice-baldwin-drama-atolyesi-raporu/
Austria (March 2007)
Patrice Baldwin led workshops and was a keynote speaker at the AITA/IATA 16th World Congress, Drama in Education – "The Magic Bullet", Schlaining Castle, Burgenland. http://www.eduhi.at/dl/DiE_doku_07_Baldwin.pdf
Greece
Patrice has led workshops in Athens and in Thessalonica for the Hellenic Drama Theatre Association. She has also given a Skype speech and seminar for student teachers.